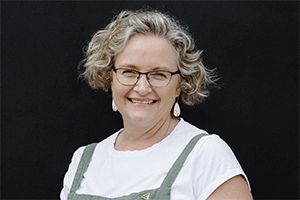 The creative sector has been one of the hardest hit by the COVID-19 pandemic, with events and venue-based activities shut down during lockdowns at short notice or only able to cater to significantly reduced numbers of visitors.
The impact the creative sector has on our society is far reaching. On the one hand, there is the social impact through our engagement and enjoyment of the arts. There are also far-reaching economic impacts. The creative sector not only employs artists and support staff in the cities and regional areas, but also the value chain of suppliers that provide materials; venues that host events; and the hospitality sector that benefits through art tourism.
The demand for content has grown exponentially during COVID-19 and we have seen everything from online choirs, digital art classes and virtual tours delivered through platforms like YouTube and Zoom. While these platforms provide creatives with a way to continue engagement with their customers, generally there is limited opportunity to monetise their effort. The benefit generally does not flow to the artists, rather it remains with the large social media platforms. However, a new platform is setting out to change this.
Handmade Australia provides an online marketplace for over 500 designers from around Australia selling more than 5,000 products. It brings together sellers from around Australia and buyers from not just Australia, but from 35 countries including the USA, China, the UK and Singapore.
Early beginnings
Founder, Julie Nichols says the inspiration for a marketplace for handmade products came 13 years ago.
"I was a defence family member and a veteran. We had been in Canberra and I had studied millinery while I was in the air force. Then when I got out of the air force, I had my own market stalls while we travelled around Australia on postings. When we came back to Canberra, I realised that there was potential for markets to be more than what they were at the time and that there was a niche for people who made their own product that was not mass produced or imported.
"I was also very aware of the fact that in Canberra, there are many creative courses available but no real way to then sell items that have been created. Back in those days, the internet was a fairly new thing. So, I decided to start my own market and create that niche for people who make their own products", says Julie.
By 2020 the markets had grown substantially. There were now four markets a year and they had grown to three days, each with over 35,000 customers and 290 stallholders. Each market was putting $5 million back into the local economy and there were 900 stallholders on the books. Then the COVID-19 pandemic hit and Julie had to completely pivot the business at short notice.
"We changed very quickly and went to a virtual market straightaway. The virtual markets worked really well. It gave us a chance to do something that we never would have done because what we were doing previously was so successful that we didn't have time to really concentrate on any other concepts.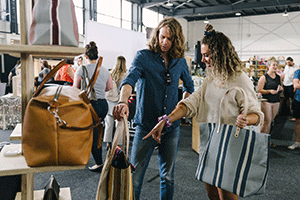 "The virtual market opened our eyes to the fact that people were comfortable with selling and shopping online and also meant we were able to connect with new customers and creatives that wouldn't previously have attended the markets".
In the last 18 months, Julie says they have completely restructured the business and are now able to sell 100% online. The designer members have grown to about 585 and the online platform complements the markets, whenever COVID restrictions make that possible.
"This means that 365 days a year we are able to sell Australian made products to the world", says Julie.
Providing a 24/7 marketplace for Australian Made products
In its first week of operation the Handmade Australia platform had more than 5,000 products listed. The ecommerce marketplace allows access to handmade followers, both locally and internationally. The Handmade Australia platform supports micro-entrepreneurs and small businesses in a number of ways
Julie says that in the current environment the Handmade Australia platform provides the only income for some small businesses, many of them located in regional areas. "I have had so many messages from people that say if our business didn't exist theirs wouldn't exist, because that is what is keeping them afloat".
ACCC substantial transformation test. These criteria have a flow-on effect in that the designers source the majority of their materials from other small businesses located in Australia, encouraging a more resilient supply chain.
Handmade Australia requires its designers to meet certain criteria, namely the products need to be an original design, concept, and product of the seller's making. Each product must also be made, developed and produced in Australia from Australian and/or imported ingredients or elements. If imported ingredients are used the product must meet the
Providing a marketplace with access to a large customer base, helps to create sustainable industries that will remain in regional areas.
Each seller on the Handmade Australia platform has the opportunity to tell their story and educate customers about the heritage, history, sustainability and other unique qualities of their products. This creates a rich cultural experience for visitors to the site. "We seem to have a bit of a fan base that travels around the world and comes back looking for Australian gifts or looking for things that remind them of home. A lot of people seem to have a connection with Australia and Australian made, whether they still live here, they never leave, their boyfriend came from here, or whatever the story might be - there are just so many connections and so many stories", says Julie.
Handmade Australia, not only supports creative micro-entrepreneurs by providing a marketplace for them to sell to customers, they also provide a range of other support services from workshops to discounts on shipping. "We ran a digital boot camp to help our members with delivering services online. It was a great course and covered topics like talking to your customer,
your social media, getting your website up to speed and we plan to offer more, including around exporting." Another important partnership has been with Australia Post. "They offer the members who sell on our platform a large discount. When the virtual markets first started, we went to Australia Post and said, we're about to do this can you give us a code and then you'll be able to track and see how much we're actually sending. We were given a code and they said they would get back to us in a month and see what they could do. That was on the Friday, we had the virtual market on the weekend and they called us on the Monday and said, 'you've had $33,000 go through this morning, we'd like to talk'. Australia Post have been fantastic in their support."
Julie says that they are constantly improving the platform using analytics from the site as well as the experience of customers and sellers as well as connecting with other market organisers around Australia.
"One of the other things we have been doing during COVID is speaking to a lot of the bigger markets from around Australia. We've all been talking and just checking in with each other", says Julie.
This provides Handmade Australia with the unique capability to reach out to just about every creative in Australia.
For more information, visit https://www.handmadeaustralia.com.au/
An initiative of the ACT Chief Minister's Export Awards
The ACT Chief Minister's Export Awards aims to showcase and celebrate the achievements of Canberra region exporting businesses. These Canberra and region businesses transact significant parts of their business activities (legal, accounting, production, research etc.) through the ACT as they develop international markets. The ACT Chief Minister's Export Awards aims to build the pathway for new and emerging Canberra region businesses seeking to internationalise their business. If you are a new or existing exporting businesses in the Canberra region, you can access a range of support as well as network with other exporting businesses, including

The ACT TradeStart Program helps ACT exporters to achieve long term success in international markets. The TradeStart program allows the ACT Government to work closely with Austrade and access key Austrade resources such as their export database, trade mission activities, their off-shore offices, intelligence and international connections for the trade and investment activities to support ACT exporters.

The International Business Engagement Program is being delivered by Canberra Business Chamber on behalf of the ACT Government. Its main objective is to maintain, rebuild and find new opportunities for Canberra and region businesses to engage internationally. The program focuses on building the Territory's exporting community; providing training and support by facilitating seminars and workshops; creating links between local industry and other government support programs; assisting the ACT Government in co-ordination of business trade delegations (outbound and inbound).