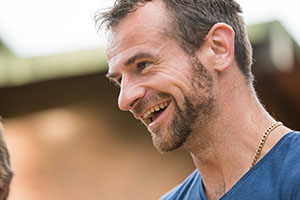 Saša Šestić believes his mission is to keep chasing the perfect cup of coffee. In 2008 Saša founded ONA Coffee Wholesale (Canberra) Pty Ltd which has grown into a global distribution company with wholesale partners across Australia and worldwide, as well as a range of cafés across Canberra, Sydney and Melbourne. ONA's mission is to create not only the best, but the most sustainable coffee in the world. It sources its coffee through the organisation's ethical green bean trading company, Planet Origin.
Planet Origin engages directly with over 100 coffee producers on their farms, paying them a fair income and implementing farm practices and quality control processes that benefit the communities in which they are located. Planet Origin works across Ethiopia, Colombia, Honduras, El Salvador, Panama, Nicaragua and India.
ONA has won several prestigious industry awards including at the Australian 2015 Golden Bean Roasting Competition and the 2015 TISCAWRBC Competition held in Taiwan. Saša has also won impressive titles including the 2015 World Barista Championship.
Saša has innovated across the coffee producing ecosystem. He has conducted research, invested in training programs, and designed and created an innovative barista tool that is sold in many countries around the world.
The inspiration behind the business
Saša and his brother came to Australia from Serbia in 1997 during the war crisis in the Balkans. They were competitive handball players and joined the Australian team to play in the Olympic Games in Sydney 2000. Originally planning to return to Europe and continue playing handball competitively; in 2000 Saša got married and decided he loved Australia too much to leave. Unfortunately, European handball was not very big in Australia, so Saša needed to find another job. He had always loved hospitality, so he did a CIT and TAFE course and worked in 10 different venues over a few years but the moment he got a job as a barista he fell in love with it. Saša says he can't explain why because he did not like the taste of coffee and did not even drink it, but he fell in love being a barista. He loved that he could create something special. He could talk to people and that interaction with them could make their day just a little bit better.
Saša opened ONA coffee in 2008. He became obsessed with the flavour of coffee and that obsession drove him to travel to many countries. Now the organisation has several coffee farms in South America and in 2011 they founded another company called Project Origin. Project Origin buys green beans from 12 countries and 200 producers. They pay the farmers at least 50% more than fair trade or Rainforest Alliance certified coffees.
What makes ONA unique is that they really understand the coffee ecosystem. Saša says that because they also have these farms, they understand how to process coffees, how to ferment coffees and how to treat it. They can therefore support their farmers to give greater value to their coffees.
ONA has won the Australian Barista Championship six times in five years. Saša says that people think Melbourne is the coffee capital, but these results show that Canberra knows how to do coffee. After 2015 when Saša won the 2015 World Barista Championship, Saša feels that it really sunk in that ONA could make best coffees in the world.
One of Australia's first hospitality projects with completely carbon neutral operations
The coffee industry has faced many environmental challenges over the years including water pollution, deforestation and soil erosion. With coffee consumption rising exponentially, consumers are caring more about the impact their buying behaviour has on the environment.
Saša says ONA's goal is to enrich people's lives through great coffee, community and sustainability for future generations. ONA's focus on sustainability is more than skin deep. It flows throughout the coffee chain. This means making changes in farming practices through Project Origin as well as making changes in their cafés. In 2020 ONA opened its new café in Melbourne, which was able to operate for two weeks before they were in lockdown. This new café received a commendation in the Sustainable Architecture category of the 2021 Victorian Architecture Awards. ONA hopes to go completely carbon neutral and the new café has several sustainability features including being 100% electric. It uses induction cooktops and solar panels, has rainwater tanks, plenty of natural light, organic waste streams and bike parking for those using active travel. In Canberra, ONA has also converted their Fyshwick building to be 100% powered by solar energy.
An industry that thrives on creativity and innovation
Creativity and innovation in the coffee industry is so much more than cute pictures in the froth of your cappuccino. As the fascination with specialty coffee grows, skilled and talented baristas are in increasing demand. Saša is committed to making the job of a barista a career rather than a summer job. Being able to make excellent coffee means understanding all the variables that can affect it and learning how to control them. One of the main factors impacting on quality and consistency is distribution. Saša designed and created an innovative tool for baristas that glides over the ground coffee to achieve perfect distribution and therefore a consistent taste. The ONA Coffee Distributor (OCD) was first used by Saša on stage at the 2015 World Barista Championship. There are 3 different models that are used in cafes around the world and in international competitions. In developing the latest model, Saša worked with The Coffee Excellence Centre at the Zurich University of Applied Science in order to test a new coating that reduces the build-up of coffee grinds from static electricity.
Changing the value people put on coffee
Saša believes that up until 5 or 10 years ago coffee was just a commodity drink. It was the social aspect that was important, so people were not prepared to pay much for coffee. If you compare coffee drinking to wine drinking, sometimes you are prepared to pay for a more expensive bottle of wine. You see value in that wine. Saša says their mission as a company is to add the greatest value to every cup of coffee that they can. This means giving techniques to their farmers to allow them to grow coffee that can be scored above 80 points. Specialty coffee refers to coffee scored between 80 and 100 points on the SCAA scale (Specialty Coffee Association of America 1) where every step of the production process is carefully monitored to improve quality.
According to Saša, it is essential that this continues beyond the farms to the coffee shops. Even though they can produce amazing coffees, they need to make sure that their customers really appreciate the value of the coffee. Their job is to really understand customer preferences so that they can suggest the most suitable coffee whether the customer prefers milk-based coffees, espresso coffees or filter coffees. Giving the customer a coffee that they are comfortable with, but a better quality coffee than what they have had before is what builds trust. Saša says it' s about consistently educating the customer. Then customers can be encouraged to experience some of the super rare coffees until one day they will hopefully walk into the shop and request a Jamison Savage coffee from Panama or a Geisha coffee. Saša says this takes investing effort in their staff, their menus, and their baristas and most importantly, really connecting with their community to embrace what they are trying to do together.
Having an impact requires a long-term perspective
ONA focuses on vertical integration, so they don't just buy the coffee from the farmers they have a long-term relationship with them. This means they can keep adding value from year to year. For example, when they go to Kenya, they take some seeds from certain varietals in Kenya and bring it to Nicaragua to give them the opportunity to improve both in the short term and in the longer term.
Saša says the organisation also holds non-profit auctions in some Central American countries. This involves bringing buyers from all over the world and creating the opportunity for farmers who don't normally have customers to sell their coffees. They create an auction with the best 15 or 20 coffees from for example, Honduras. And in three years of doing these auctions, they have raised over half a million US dollars. All of the ONA staff do this on a voluntary basis because they believe that this is a good way to give back.
From investing in communities to investing in staff
Saša is regarded as one of the coffee industry's leading educators. He provides mentoring and training to café owners around the world. He also helps to train the new generation of coffee champions. ONA staff member Hugh Kelly won the Australian Barista Championship in 2016 and 2017, and Matthew Lewin won the title in the 2019.
The organisation regularly examines its budget and KPIs and have created what they refer to as a 'giveback fund'. Even though 2020 was challenging with the COVID-19 pandemic, they wanted to make sure they could do whatever they could to come out of it stronger and make the relationships closer. So, they donated $50,000 to farmers that have been affected by the hurricane in Central America. Saša believes that because they do these things, it creates an unbelievable culture within the company and people know they are making a positive impact.
Working towards the same goal
While ONA Coffee (wholesale and retail) and Project Origin are very different, they are all very connected and are working towards the same goal. Saša says that in the next few years this means being involved in the countries that are less fortunate. Project Origin is part of the Australian Government's Business Partnership Platform (BPP) and will be working with specialty coffee producer, Kape Diem and not-for-profit 1LM to facilitate economic growth in Timor-Leste. The project will aim at creating a long-term relationship with the farmers, supporting them through education and technical assistance to put the country on the map as a specialist coffee producer. Saša says there will be other similar projects in a few other countries that are not very famous as coffee producers.
Saša has recently added a new company to the portfolio called Nucleus Coffee Tools which is designed by coffee professionals for coffee professionals. The vision of the company is to make tools that will make coffees a lot more consistent and a lot tastier. They have been collaborating with the University of Switzerland, which is the only university in Europe that awards a coffee degree. Saša is also one of the presenters at the university for industry experts.

For more information on ONA Coffee visit https://onacoffee.com.au/.

1 https://sca.coffee/research/coffee-standards
An initiative of the ACT Chief Minister's Export Awards
The ACT Chief Minister's Export Awards aims to showcase and celebrate the achievements of Canberra region exporting businesses. These Canberra and region businesses transact significant parts of their business activities (legal, accounting, production, research etc.) through the ACT as they develop international markets. The ACT Chief Minister's Export Awards aims to build the pathway for new and emerging Canberra region businesses seeking to internationalise their business. If you are a new or existing exporting businesses in the Canberra region, you can access a range of support as well as network with other exporting businesses, including

The ACT TradeStart Program helps ACT exporters to achieve long term success in international markets. The TradeStart program allows the ACT Government to work closely with Austrade and access key Austrade resources such as their export database, trade mission activities, their off-shore offices, intelligence and international connections for the trade and investment activities to support ACT exporters.

The International Business Engagement Program is being delivered by Canberra Business Chamber on behalf of the ACT Government. Its main objective is to maintain, rebuild and find new opportunities for Canberra and region businesses to engage internationally. The program focuses on building the Territory's exporting community; providing training and support by facilitating seminars and workshops; creating links between local industry and other government support programs; assisting the ACT Government in co-ordination of business trade delegations (outbound and inbound).

Find out more about the 2021 Export Awards that close on 6 August at https://www.exportawards.gov.au/