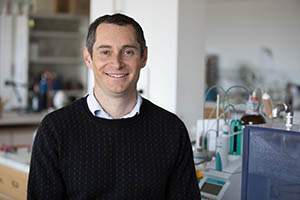 A coolant is a substance, typically a liquid or gas, that is used to reduce or regulate the temperature of a system. We are all familiar with the idea of our cars needing coolant that serves to transfer heat and prevent engine damage caused by freezing or boiling. The application of coolants however is much broader. Computer cooling, for example for high performance gaming computers, is required to remove the waste heat produced by computer components, to keep the system operating within temperature limits and avoid any malfunction.
Batteries also generate heat and with them becoming integral to the success of electric vehicles, solar storage temperature control is a key to success. Canberra-based company Flexegraph (Flex-G) has developed a world-class coolant that conducts heat 30% better than water. The nanofluids created by Flexegraph outperform traditional coolants and has application across a broad range of industries producing more efficient systems, longevity and reducing the costs of operating.
The market
Flex-G is an ANU spinout that launched in September 2017. Founder, Shannon Notley says "I was an academic at the ANU for many years and we had developed some coolant technology that potentially had a range of applications. I decided to leave the university in order to work on commercialising it". Four years on and the company is in a good place having closed a funding round, recruited its first staff and has a consumer product on the market. The challenge now is to increase market engagement and deliver larger quantities of the product. One of the markets currently being addressed is the cooling of computers. Shannon explains that many computers, particularly gaming machines, use very high-powered chips that are liquid cooled.
"This was one of our big pivots during COVID. We moved away from focusing only on enterprise sales to include targeting the consumers directly. This pivot was in a large part due to all our larger scale pipeline work grinding to a halt because no one could do any testing. This just made an already long sales cycle event longer. So, we thought, people are at home, they are playing games - can we push out a consumer product quickly. We did and it works", says Shannon. The product is a bottle of liquid that is poured into the cooling loop on top of a CPU or other processor of a high-end gaming machine. This enables those enthusiasts to push the performance of their PCs.
While sales of this consumer product continue to grow, Flex-G is hoping to revisit some of those larger volume applications soon. Shannon believes that the growth in enterprise computing is likely to be the big market in the next few years and the current work being done with consumers is all part of that development process. The larger applications mainly relate to the cooling of battery systems in energy infrastructure. These are high voltage DC converters used for transmitting power across large distances. Flex-G is also doing some work in the home heating market, particularly in the UK.
The current computer cooling based sales are via an ecommerce platform with most sales to Europe and the US. Flex-G has got regulatory approval for their products in these markets. Shannon says that this is not an insignificant barrier to push through. In terms of marketing, most of it is currently done through traditional social media marketing. The product will also shortly be available through Amazon and other distributors.
"Prior to increasing the number of sales channels we worked to get as many eyeballs as possible to the website. And we got a small grant through the ACT Government's Boosting Innovation Grant program, which really helped us to set this up", says Shannon.
The unique element
Shannon says that through the ANU based research; the company developed a very low-cost method of producing a particular component in their cooling liquid, which is lacking in other products. "This gave us a competitive advantage to target applications in volume, which is something no one else can do", says Shannon.
Shannon knows that this market advantage won't last forever, but given their products are becoming more complex they will be able to stay ahead of any potential competitors for some time yet.
"There are still challenges around integrating our liquid into certain systems, so it will be a few more years before we move further up that value chain. This means that ultimately, we won't just be selling the liquid, but would provide complete cooling solutions. This means that we have also had to move into the hardware design to ensure we understand the infrastructure needs of the systems we want to create and service. This all helps manage the big integration challenge, which can make some people reluctant to change from their current solutions or approach", says Shannon. This creates another challenge for the company - how they would they ship and distribute any hardware? Shannon believes that partnerships will be the best approach.
"To date the only competitive edge in the energy industry was price, and there'd been virtually no innovation for almost 100 years in this space", says Shannon.
"We were the first to come along and show improved thermal performance that was scalable, and while we can't really compete on price, it's not ridiculously expensive. We have opened some new competitive angles and can say that we are competing on reliability, convenience and performance. This is exciting for us and for our customer. What we need to deliver on is production at scale and partnering with the right people to sort out distribution".
Currently all manufacturing is done from the company's Acton site, but they are looking for local options to ramp up the production to meet demand.
Shannon says that Flex-G was fortunate to be part of an Incubator program in Sweden through one of the largest energy infrastructure manufacturers in the world. "This program played a big part in supporting initial testing across several industry verticals. We have been part of this program for almost 18 months now and it has at time been difficult given the travel restrictions. But our main business development person is based in Norway and having him in that same time zone has made things a lot easier. We also have a branch office in the UK, based in Manchester", says Shannon.
What's next?
Shannon says that there is a lot of interest from the electric car market, but this does have its challenges. "The only real innovation the car industry is interested in right now is how do we make it cheaper. You can bring an innovative product to them and they say great, we'll take it but we won't pay any more than what we're currently paying. This is a problem for us, because it costs more to produce the new product. These sort of cost pressures will never go away in certain industries", says Shannon.
In the energy industry however, Flex-G can help deliver major savings on the outputs of new installations and companies can win tenders based on that. Shannon says this is a much easier conversation to have. He says it does come down to understanding that different industries work on different metrics and different incentive structures, and you have to be across these to win work.
Shannon is also focusing on growing the team. The team currently consists of three staff and a few consultants that are called in as needed to address specific issues like compliance. It's a small team covering a lot of work and the workload is only going to increase. "This is always one of the challenges when your company was effectively born global", says Shannon.
Growing the team will also mean that more time can be spent on understanding legislative and compliance requirements across different sectors in different countries. The chemicals industry is one most highly regulated in the world with Australia amongst the most stringent.
Some of the lessons learned
Shannon says that the lessons are still coming but so far the biggest ones have been
Initially being an IP company was a challenge because we had no idea how to value what we had. It's important to seek out the right type of advisers to help with this (and throughout your journey).
The bigger the company you're working with, the slower it goes. And as very small startup you just have to go with it – you are not in a position to tell them to make a decision.
Plan for these long buying cycles, you will still have staff and bills to pay.
The best partnerships that we found are not necessarily with the number one in the market. It's the company that is fifth or six in the pecking order, because they are hungrier and will work harder to take someone else's market share.
Being first in the market with anything is always about education first. You have to make calls and demonstrate how you can produce enough value for a client to want to test and challenge their thinking with your product. Then you have to work out what the business case around this looks like.
When you are growing, developing standardized processes from recruitment through to production is key to success.
Never stop planning and review what you have done regularly. Your original assumptions and goals will change so you need to be ahead of this, not trying to catch up from behind.
For more information on Flexegraph visit https://www.flexegraph.com/
An initiative of the ACT Chief Minister's Export Awards
The ACT Chief Minister's Export Awards aims to showcase and celebrate the achievements of Canberra region exporting businesses. These Canberra and region businesses transact significant parts of their business activities (legal, accounting, production, research etc.) through the ACT as they develop international markets. The ACT Chief Minister's Export Awards aims to build the pathway for new and emerging Canberra region businesses seeking to internationalize their business. If you are new or existing exporting businesses in the Canberra region, you can access a range of support as well as network with other exporting businesses, including

The ACT TradeStart Program helps ACT exporters to achieve long-term success in international markets. The TradeStart program allows the ACT Government to work closely with Austrade and access key Austrade resources such as their export database, trade mission activities, their off-shore offices, intelligence and international connections for the trade and investment activities to support ACT exporters.

The International Business Engagement Program is being delivered by Canberra Business Chamber on behalf of the ACT Government. Its main objective is to maintain, rebuild and find new opportunities for Canberra and region businesses to engage internationally. The program focuses on building the Territory's exporting community; providing training and support by facilitating seminars and workshops; creating links between local industry and other government support programs; assisting the ACT Government in co-ordination of business trade delegations (outbound and inbound).