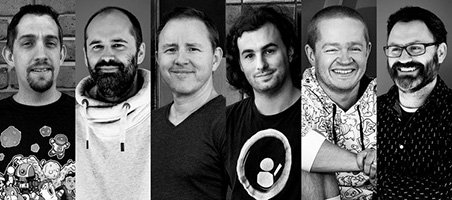 Founded in 2011 by Ed Orman, Andrew James and Ryan Lancaster, Uppercut Games is an independent video game development studio based in Canberra. In 2012, Uppercut expanded to include John Travers and Evan Zachariadis, with Ben Driehuis joining in 2014. Interactive games are not only a major part of contemporary culture but contribute substantially to the economy. According to the Interactive Games & Entertainment Association (IGEA)1 $184.6mil in income was generated by Australian Game development studios in 2019/2020. The industry grew its revenue by 29% since 2019, with the impact of COVID-19 seeing many people in lockdown searching for entertainment.
To give you an idea of the size of the market for games, a 2016 Senate committee report2 ''Game on: more than playing around'' provides the following statistics
98% of Australian homes with children under 18 years have a device for playing interactive games.
Of the 68% of Australians that play interactive games, the average age was 33 years.
47% of players are female.
Uppercut Games is holding its own in the very competitive games industry. With multiple games across mobile, PC, XBOX One and PS4, including the EPOCH series, Submerged and City of Brass; the company is going from strength to strength.
Deciding to take the plunge
The founders of Uppercut Games came from a AAA studio background working on big budget projects. For those unfamiliar with gaming, this is similar to blockbuster or high-profile films in the movie industry. Prior to forming Uppercut, they cut their teeth on PC games like Fallout: Tactics, Freedom Force and Tribes: Vengeance before moving on to console games with Bioshock, Bioshock 2 and XCOM.
When the business they were working for was bought by a large American company they saw the opportunity to go out on their own. They had the technical expertise and experience of working on big-budget XBOX and PlayStation games using the Unreal engine. When Unreal ported to iPhone and iPad apps, they saw the potential to be able to create games for mobile. Using the Unreal engine, they could bring AAA quality to mobile games.
They made their first mobile game called Epoch which released on Apple iOS 9 months after establishing the company. The game caught Apple's attention. The high-quality images help to show off the hardware and the game was featured and promoted in the Apple Store. Positive reviews and strong sales gave the team the confidence that they could actually do this and be successful in a global marketplace with their approach of using high-quality visuals for pick up and play games.
Reputation is everything
Coming from a large studio environment and having worked on one of the biggest and most successful games ever made in Australia; the team from Uppercut have been able to leverage their reputation and connections. People had seen what they were capable of with a very small team and that they were punching well above their weight. So, it's no surprise that their most recent product involved a partnership with publisher, Google.
Submerged: Hidden Depths is Uppercut's first exclusive title for Google's Stadia streaming service. Submerged is a third-person combat-free game in which you explore a mysterious flooded city and discover the beauty of desolation in vast outdoor environments. The partnership with Google has many advantages. Google does all of the marketing and PR as part of publishing the product and organises high-quality translation. Supported translation is available for English, French, Italian, German, Spanish, Portuguese, Brazilian Portuguese, Japanese, Korean, simplified Chinese, traditional Chinese, Turkish.
Submerged has also been featured in an interactive display which ran from September 27 to March 9, 2020 at the National Film and Sound Archive of Australia. The collection called Game Masters: The Exhibition, examined five decades of video game history in an interactive display. The exhibition included multimedia and new media content representing modern life of which video games is an important part.
Understanding the difference between the customer and the user
Uppercut Games has always employed a strategy of courting the platform by creating games that sold their hardware. The focus on platform rather than the end user has a key advantage, namely that platform holders own those markets already. For Uppercut it was far easier to get the attention of Microsoft or Sony and have them market their games. They have the knowledge of who wants to play that kind of game and where to promote it, making their marketing much more successful.
Achieving good localisation
Uppercut has found that trends in technology can have a major impact on market uptake. For example, India embraced wireless mobile data, skipping over wired broadband and suddenly everybody was able to download content. This meant that this market massively opened up.
Early on the team at Uppercut realised that Australia wasn't a big market. For some time, China was a very big market for them, but now it's very difficult to publish in China. A number of segments in Europe have also been very big as well as Turkey, and Brazil.
They learned early on that if you want to appeal to those markets you need to get good localisation. For entertainment, it's very important that the localisation is done in context. If someone is just trained in translating and they don't have the context of the thing they're translating, then even though the language might be correct, the context is wrong. And then you're going to have customers giving the game a bad review.
They originally tried to us some cheaper translation options, but found that you really need translators who understand game terminology to achieve good localisation. With Submerged: Hidden Depths, Google managed the localisation and this has set a new standard.
Planning for growth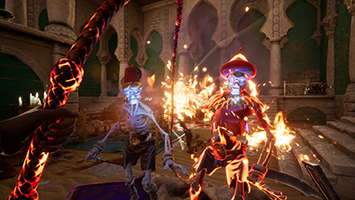 Currently, Uppercut Games employs six full time people in Australia and one full time person in New Zealand. However, this number expands depending on the project. At the height of Submerged, there were 16 or 17 people employed as well as external contractors for things like concept art and audio. For a game like Submerged: Hidden Depths they would be funding around 23 people.
Uppercut's growth strategy is focused on making higher quality games that have larger budgets, which they can then charge more for. They used this strategy with Submerged: Hidden Depths, where they ramp up the team similar to television or film production.
The goal is to achieve this number working on one project and then have a small team of seven people to work on a second project in parallel. This approach will ensure they keep the corporate knowledge within the organisation.
Working with large publishers like Google also requires an investment in non-development activities. In large companies the wheels turn slowly. They have large, extremely stringent legal departments and it can take months to dot all the i's and cross all the t's. The team said they had to learn that this was not unusual and all the big publishers have similar processes. Sometimes there's an assumption that you have resources like an accounting department or an HR department. The bigger companies are used to dealing with other big organisations that have all the support apparatus. However, they are quite accommodating when they realise that you're not that big.
Explosive growth in online playing during COVID-19
Historically, it's been pretty hard to get investment for game development in Australia and up until their last product, all Uppercut games have been self-funded. However, with the COVID-19 pandemic and the massive spike in people playing online games it may become easier to attract investment in the future. The recent announcement of tax offsets will also help.
The games industry is inherently risky. At its core, it's a hit driven industry like film. However, unlike film where people go to movies once or twice, people will play multiple games each month.
The future for Uppercut Games is looking very positive. Having made a whole series of games, they are able to take their existing successful titles and turn them into a franchise. This means selling additional products to an already enthusiastic supporter base.

For more information on Uppercut Games visit https://www.uppercut-games.com/
1 https://igea.net/2021/01/australian-game-development-industry-counts-185-million-in-revenue/
2 https://www.aph.gov.au/Parliamentary_Business/Committees/Senate/Environment_and_Communications/Video_game_industry/Report
An initiative of the ACT Chief Minister's Export Awards
The ACT Chief Minister's Export Awards aims to showcase and celebrate the achievements of Canberra region exporting businesses. These Canberra and region businesses transact significant parts of their business activities (legal, accounting, production, research etc.) through the ACT as they develop international markets. The ACT Chief Minister's Export Awards aims to build the pathway for new and emerging Canberra region businesses seeking to internationalise their business. If you are a new or existing exporting businesses in the Canberra region, you can access a range of support as well as network with other exporting businesses, including

The ACT TradeStart Program helps ACT exporters to achieve long term success in international markets. The TradeStart program allows the ACT Government to work closely with Austrade and access key Austrade resources such as their export database, trade mission activities, their off-shore offices, intelligence and international connections for the trade and investment activities to support ACT exporters.

The International Business Engagement Program is being delivered by Canberra Business Chamber on behalf of the ACT Government. Its main objective is to maintain, rebuild and find new opportunities for Canberra and region businesses to engage internationally. The program focuses on building the Territory's exporting community; providing training and support by facilitating seminars and workshops; creating links between local industry and other government support programs; assisting the ACT Government in co-ordination of business trade delegations (outbound and inbound).
For more information about the 2021 Export Awards which close on the 6th August, visit https://www.exportawards.gov.au/