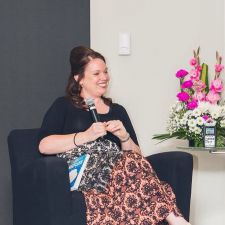 Photo by: Tracy Lee PhotographyAs one of Canberra's most recognizable animal lovers - Kristen Holzapel is the owner of Canberra's Friendly Petsitter. Kristen has brought forth, through the wisdom, struggle and riches of her life, a loving, caring and reliable petsitting service where she enjoys plenty of pet cuddles from her 'fur'-clients.
Kristen is also an accomplished public speaker and author of "Selfless: a social workers' own story of trauma and recovery". The memoir shares Kristen personal journey of being a social worker and the effects that burnout and compassion fatigue took on her personal and professional life.
She shares openly about her recovery from vicarious trauma and anorexia nervosa. Her story is beautifully written, honest, and insightful, and has been receiving high praise from others working in the 'helping' professions.
What's happened in your business/career since you were on the Canberra Wise Women stage?
Since I was on the CWW stage, on the night themed "Thrive', thriving is exactly what I have been doing!
My petsitting business has nearly tripled in size, growing from a team of three, to now a fabulous team of 11.
Since the birth of my book, I have enjoyed the endless opportunities, including speaking at various engagements (CWW movie events and CIT), being interviewed by CityNews and now there are plans afoot for a radio interview. I have also self published a second edition of my book, and launched my website, (www.kholzapfel.com). I plan to do the same for my petsitting business as well.
Over the last 2.5 months I have also committed time to myself and my body to thrive. With the help of a personal trainer and to address a health issue, I have managed to turn a lifetime of loathing exercise into something I can enjoy.
What keeps you inspired?
In business, what inspires me are my 'fur'-customers, their owners and my petsitters. And of course all this wouldn't be possible without the endless support I receive from my business buddies. Not only do they inspire me daily, they also show their love and support by sending referrals my way.
What inspires me most however, is being able to do the same for my professional friends, who assure me daily that my life isn't as weird as I perceive it to be and that my book is an important read and the medicine they need to avoid burnout, compassion fatigue and workplace trauma.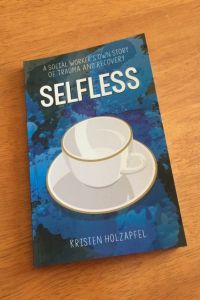 Photo by: Kristen HolzapfelWho are your biggest supporters?
As mentioned above, I am blessed to be surrounded by extraordinary people in my life who support me endlessly.
Since the release of my book I have received such beautiful feedback from my professional friends, telling me that my work has changed and positively influence how they implement self-care and prevent burnout. I am also told how courageous I am for giving birth to such an important message...
Your voice matters, your story matters. YOU matter!
Do you have any advice for people up and coming in your Industry?
For those of you who are interested in writing a book, as rewarding as it is, at times it can be isolating and agonising. The key is to make sure that you are doing it for reasons that make it worthwhile. My tips for writing your own book include: taking regular breaks and keeping your goals plentiful, yet manageable.
When it comes to starting a small business, the biggest advice I can give you is, save! Starting a business can be expensive, so look into part-time or casual work or check to see whether you are eligible for a grant. Oh and network, network, network! Relationships are key!
How do you keep yourself organised and on track?
I like to have systems and practices in place that keep everything organised. ... a paper diary, Facebook reminders, 'To Do' lists, timetables, excel spreadsheets, QuickBooks and my trusty apps for banking, and photo collaging of my fur-clients.
As a petsitter, I am constantly packing and unpacking. The trick to successfully working while being on the move, is my ability to be prepared for constant change and downsizing your excess 'stuff'. This can be hard at first, but now I love the liberation that comes with a minimalist lifestyle.
Indiana Holley, Canberra Wise Women
Probably located in a tent somewhere, or hiking to the top of a mountain, Indiana is a nature lover, experience maker, adventure taker and advocate for living loud, loving gently, and being unapologetic for taking up space. Indiana is a certified Wellness Coach, nature-based Healer, Hobby Farmer, Food Alchemist and Writer who specialises in the topics of earthing, slow living, healing the body and growing and cooking your own food. She believes that connecting to nature and to each other, gives us a sense of belonging and allows us to slow down and heal.