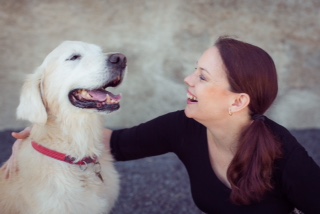 I am the owner/operator of "Canberra's Friendly Petsitter", a live-in petsitting service that started in 2014, to serve the pet-loving customers of Canberra and Queanbeyan.
Like many, a crisis was what drove me to start my own business. I qualified as a social worker in 2001 and spent several stress-fuelled years working in various positions before I began exhibiting symptoms of trauma. In 2006, I became suddenly and seriously unwell and it wasn't until several years later that I managed to pull myself back to health. My symptoms mimicked those of Post-Traumatic Stress Disorder (PTSD) and, I would later find, prevent me from re-engaging with the traditional workforce.
Realising I needed to depart from my career for the sake of my health saddened me deeply. Social work may have brought me a lot of heartache, but it had also delivered me the most inspired and rewarding moments of my life.
If I had to leave social work behind, there was only one thing that would bring me as much joy - animals.
For years, I'd enjoyed petsitting for my friends and neighbours, thinking of it as no more than a fun hobby. Over time, however, I was becoming busier and busier and several customers commented on how much they appreciated the service. There were plenty of drop-in petsitting services around, they said, but few that offered my live-in services.
I love being a full-time Petsitter! I bury my head into a warm, furry tummy and inhale the scent of happiness. I plant kisses on noses and foreheads. I put doggies to bed and whisper "good night! I love you!"
I love the flexibility that petsitting offers. I do a lot of work on my laptop, while sitting on one of several different lounges, with one of several different fur-babies at my feet. This was how I began writing a book about my experiences as a social worker.
In 2014, a friend offered to create a petsitting website for me and Canberra's Friendly Petsitter was officially born. As soon as the website went live, business boomed and, a year later, I found myself permanently booked out.
Today, two years later, I can pack a suitcase in five minutes flat and am well accustomed to moving house every seven to ten days. I employ half a dozen petsitters and I've released my first book, "Selfless: a social worker's own story of trauma and recovery."
One of my biggest lessons was learning how to charge what my services were worth. In the early days, I thought I was a greedy, extortionate beast but, in reality, the $15 per night I was charging didn't represent my service and left me significantly short-changed.
Living in other people's homes meant I saved on costs like electricity, but I still had plenty of other costs. My three biggest costs are insurance (an ouchy $3000 per year), petrol and phone/internet. Oh, and anything IT-related is a major challenge for me, so I have spent loads outsourcing much of it to those who are much more IT-savvy.
I'm astounded by how quickly my business has grown and how much I have learned. I look forward to learning so much more.
Photo by: Tracy Lee Photography