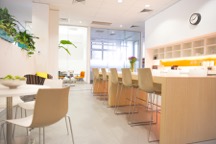 There are a number of co-working spaces popping up in Canberra and they all have their own niches and service offerings.
Coworking spaces can be a great alternative to a home office. They're set up like an office, so no more having to move your stuff from the kitchen table each night.
They have meeting rooms for hire and can help you present a professional view of your company when you are meeting clients or giving presentations.
They also offer opportunities to network with other entrepreneurs and many of them regularly hold educational events.
So, if you think a coworking space might suit you, keep reading. Over the next couple of weeks we will be profiling a number of the coworking spaces in Canberra, starting with WOTSO WorkSpace in Dickson.
We had a chat to Annie Brown the Workspace Manager at WOTSO WorkSpace to find out more about the facilities and services on offer.
According to Annie, WOTSO WorkSpace has been open since November 2014 and the Canberra space is the latest addition to their portfolio, with locations in Neutral Bay, Strathfield, Pyrmont and the Gold Coast.
Annie says the business has really taken off and is growing quite rapidly. A lot of people are using the meeting spaces as they are appropriate for a lot of different things.
Annie believes this is because they are really flexible, so they are growing and changing to reflect the needs of the market.
According to Annie, because flexibility is a key part of their company philosophy, if people want something specific they try their best to accommodate them.
Along with flexible workspaces ranging from private and group offices to open plan collaborative workspaces, WOTSO WorkSpace offers a full concierge service with reception and admin support and virtual offices.
The details:
· WOTSO WorkSpace is located on the ground floor of 490 Northborne Avenue, Dickson.
· It currently has 4 offices available for lease, with approximately 6 more due to be built in the near future. The office dimensions are 11.5m2.
· They also have approximately 8 co-workspaces available at the moment and are building a large workspace that will accommodate approximately 20 more which is due to be completed in the next couple of weeks.
· There are 3 meeting rooms for hire:
a. Meeting Room 1 seats up to 8 people
b. Meeting Room 2 seats about 16 people comfortably and includes a Smart TV for presentations.
c. Meeting Room 3 is their largest space, accommodating up to 50 people depending on the use of the room.
They also have a lovely, bright communal space that can be used as a break-out space or for catering.
Parking is available on-site and desks and offices are offered on a month-to-month contract which is great for those not wanting to commit to a long lease.
With desks from $110 per month, if WOTSO WorkSpace sounds like a good option you can try their free one day trial, just contact them http://www.wotsoworkspace.com.au/#canberra.
About Lighthouse Business Innovation Centre
Lighthouse has a strong track record of supporting entrepreneurs, researchers and inventers on the path from concept to commercialisation. Since July 2008, Lighthouse has worked with over 990 distinct enterprises and provided group and peer based services to over 3400 enterprises and individuals. For over five years Lighthouse has successfully delivered business advice, education, mentorship and networking opportunities to help these businesses commercialise their ideas and grow their companies. Lighthouse also delivers programs such as the ACT Microcredit Program for the ACT Government. Visit www.lighthouseinnovation.com.au for more information.