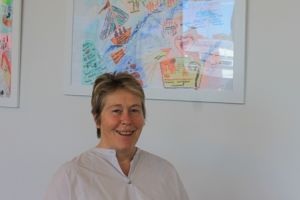 An exciting new social enterprise is opening in Phillip. An initiative of L'Arche Genesaret, it will focus on co-creating new social, cultural and economic opportunities in the area.
The Hub in Phillip will provide a dynamic new space for learning, working and sharing life alongside people with an intellectual disability in Canberra.
Things to look forward to include courses and workshops in visual and performing arts; hands-on carpentry and furniture restoration projects facilitated by the L'Arche Men's Group and other community groups; a co-working space for social businesses and a venue for community events and performances.
L'Arche Genesaret has operated in the Woden area for almost 40 years and belongs to an international federation of L'Arche communities.
According to L'Arche Genesaret Community Leader Maggie White, the aim of the Hub in Phillip is to co-create a vibrant place for creative arts courses, cultural events and venue hire.
"In keeping with our L'Arche Mission and Identity, the Hub in Phillip will be a multi-purpose social space for people with and without an intellectual disability to come together, collaborate, share and create for mutual benefit.
"Mutuality is a very important and the defining principle behind the Hub is that all activities will either involve or benefit people living with an intellectual disability.
"It will be a place where people living with an intellectual disability will feel a sense of ownership – they are the hosts in the community; inviting both young and old, with or without disabilities to join them and learn new things, celebrate, relax and participate in small business activities".
Maggie also has high hopes for the co-working space.
"We envisage a co-working space where people can develop and participate in a range of small social enterprises and hopefully put social innovation on the map in Canberra".
While the changes brought in by the NDIS have caused a number of challenges when it comes to employment opportunities for people with intellectual disabilities; organisation's like L'Arche Genesaret that are able to innovate to create real opportunities for economic and social inclusion and put the person with the disability in the driving seat; are exactly what these changes must encourage.
For more information please about the Hub in Phillip, contact Maggie White on 6282 9066 or refer to www.thehubinphillip.org.au and www.facebook.com/thehubinphillip
About Lighthouse Business Innovation Centre
Lighthouse has a strong track record of supporting entrepreneurs, researchers and inventers on the path from concept to commercialisation. Since July 2008, Lighthouse has worked with over 990 distinct enterprises and provided group and peer based services to over 3400 enterprises and individuals. For over five years Lighthouse has successfully delivered business advice, education, mentorship and networking opportunities to help these businesses commercialise their ideas and grow their companies. Lighthouse also delivers programs such as the ACT Microcredit Program for the ACT Government. Visit www.lighthouseinnovation.com.au for more information.