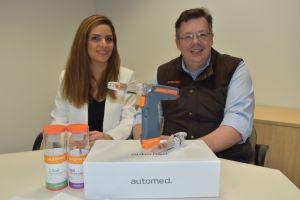 Lighthouse recently interviewed David Edwards and Samira Davoodi from automed who told us about their experiences in starting their own business, relocating from Newcastle to Canberra, and what the future holds for automed.
automed is suitable for injectable, pour-on and oral medications and serves the dairy, beef, pork and sheep industries. It is focused on how to sustainably raise animals that consumers can have confidence in.
The easy-to-use automed applicator weighing 400 grams records vital information. Farmers can view data about the medication administered to their livestock via desktop computers and smartphones. Data can be stored in a cloud and technical support is provided by the company. The company now has representatives in the United States and Europe.